Yasmin Dubrau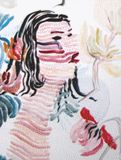 Yasmin Dubrau is a New Zealand artist formally trained as a painter, but her wide range of skills take her from jewellery to ceramics, which she is now studying with potter Masakazu Kusakabe. Her painting style, often very decorative, is a perfect match for pottery.
Her strong affinity for Japan is evident in some of her recent work, in the choice of her subjects as well as her brushwork.
Contact information
Use the form below to email Yasmin...

---